Elf discovered North East Frigg in the spring of 1974, when Deepsea Driller encountered gas at depths from 1920 to 2040 metres beneath sealevel. The field was located 18 kilometres north-east of Frigg in block 25/1.
The reservoir also extended into block 30/10. Awarded in 1969, these blocks came under production licences 024 and 030 respectively. Elf became the operator with a 25 per cent holding. Its partners were Esso with 40 per cent, Hydro with 20 per cent, Total Marine Norsk with 12 per cent and Statoil with three per cent. North-East Frigg's gas reserves were estimated at 11 billion standard cubic metres. The Norwegian government gave its approval in 1980 to landing the gas abroad.
Choice of concept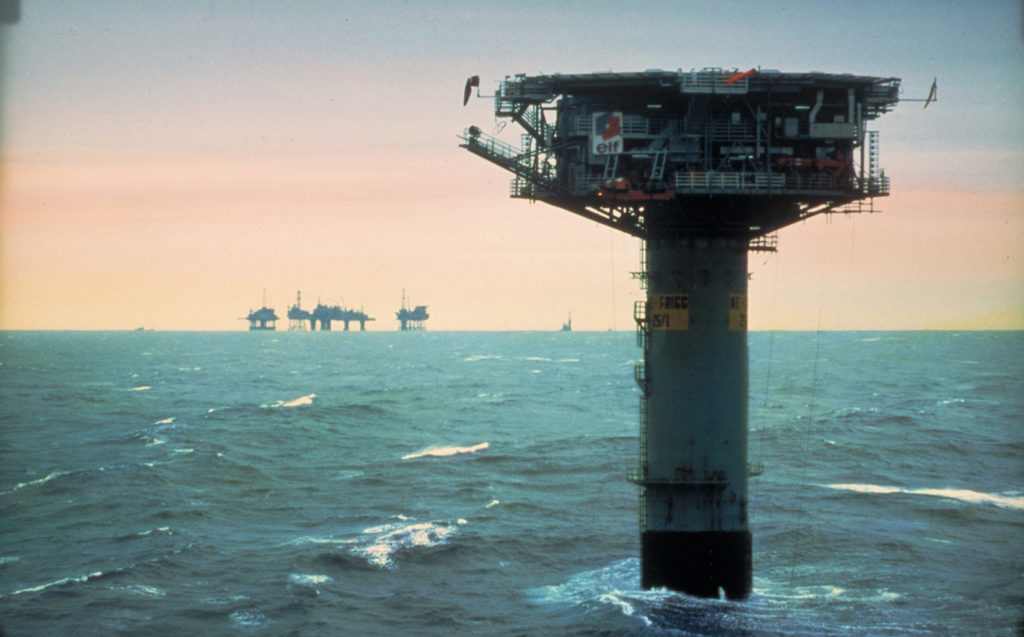 This field was the first Frigg satellite to be brought on stream with the aid of subsea technology. It was developed with wellheads installed on the seabed and an unstaffed control column. The gas was piped to Frigg, processed on TCP2 and sent on to St Fergus in Scotland through the Norwegian Frigg pipeline. North-East Frigg was controlled with the aid of radio signals from the main control room on Frigg's quarters platform.
Through this project, Frigg became a technological showcase. Elf was the first company to adopt remote control of subsea wells on the NCS. It had a long tradition of developing seabed solutions, starting in the Gulf of Guinea off west Africa as early as 1968. After 10 years of research, the North-East Grondin field could be brought into commercial operation.
Experience from the Gulf of Guinea could be adopted on East Frigg, discovered in September 1973, and North East Frigg. These were marginal fields, which were unlikely to be worth developing with conventional technology based on stand-alone platforms. As prospects, they presented great uncertainty in terms of both reservoir and economics.
At this time, the Norwegian government had expanded its involvement in the petroleum industry and wanted to draw on the oil companies to give domestic industry a boost. Through technology agreements, the authorities sought to enhance Norwegian expertise. Pressure was applied to Elf to develop the satellites with the aid of an unconventional production solution.
The French company presented four development options in May 1979. One was an unstaffed tower attached by a universal joint to a concrete foundation, which allowed it to move horizontally with waves and currents, and a seabed template with slots for six subsea-completed wells. Another involved subsea wells combined with a permanent, unstaffed floating platform and flexible risers. Next came a light steel platform with seven production wells, and the final option covered six remotely operated subsea wells. Both the third and fourth options were discarded on the grounds of price and risk. The choice fell on option one, a single articulated column with built-in operation and control units for the production wells.
Construction
North East Frigg was the first satellite in the North Sea to be brought on stream with the aid of subsea technology and a field control station (FCS). Attached to a concrete foundation on the seabed, built by Skånska Cementgjuteriet (later Skanska) in Gothenburg, the FCS was articulated to move freely in the horizontal plane and tied to six subsea-completed wells in a template which incorporated a manifold system, valves and flowlines to TCP2 on Frigg. The template was designed by Kongsberg Våpenfabrikk and Elf Norge, and fabricated by Nord Offshore. Kværner Engineering was responsible for designing the FCS, with the steel column built at Kværner Brug in Egersund, the universal joint by Kværner in Oslo and the topside with helideck by OIS in Kristiansand.
The template was installed in June 1981, with divers used both for this operation and for subsequent maintenance. The FCS stood 150 metres from the template in 102 metres of water, 18 kilometres from TCP2. Modules for processing, metering and compressing gas from North East Frigg and Odin were installed on the TCP2 platform in July 1983. To prevent the formation of hydrate (hydrocarbon ice) plugs in the flowline from North-East Frigg, methanol was piped from TCP2 and injected into the flowline at the template.
Drilling of the six production wells on North East Frigg began on 23 December 1981. The Byford Dolphin rig from Dolphin Services handled this operation, which was completed in the summer of 1983.
Production startup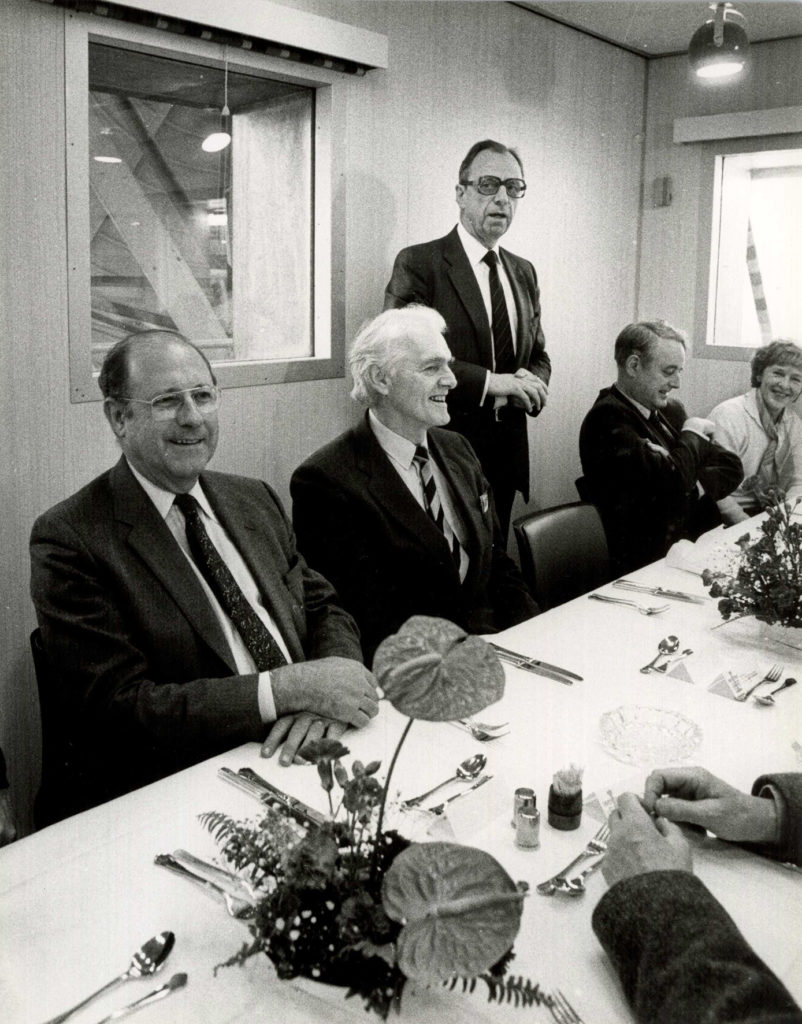 Production began on 8 December 1983 from the first three wells on North East Frigg. But it was not until a month later that petroleum and energy minister Kåre Kristiansen pressed the button in the control room on QP to inaugurate the satellite field.
Initial output was two million standard cubic metres of gas per day, which increased gradually to five million scm/d. To celebrate the successful start to production, all Elf employees were given an extra day off that year.
Experience from North East Frigg showed that the concept of subsea-completed wells drilled through a seabed template was viable. This solution gave good protection against anchors and trawls being dragged along the bottom. The size and shape of the structures provided easy access for divers and remotely operated vehicles carrying out maintenance. Most importantly, they proved to function well and to be reliable.
Shutdown and cessation
After just under 10 years of operation, North East Frigg ceased production on 8 May 1993.
Norway's first unstaffed field had then yielded 11.6 billion cubic metres of gas.
In 1995, the Storting (parliament) approved the removal of the facilities and their disposition. This was the first time installations on the NCS were to be removed and recycled. The Storting wanted as much of the hardware as possible to be reused, and environmental considerations were in focus.
Stolt Comex Seaways and Kværner Installasjon won the removal job, with Per Jøssang from Stolt Comex as project manager. North East Frigg featured a seabed template with six well slots and a control station. The latter comprised a 125-metre steel column attached to a seabed foundation and supporting a topside. Several solutions were proposed, and Jøssang has described the one chosen as both simple and highly unconventional.[REMOVE]Fotnote: Cessation plan: St.prp. nr. 36 (1994-1995) The topside was offered to North Sea Drilltrainer at Tau outside Stavanger, a training centre for drilling personnel. Jøssang took the view that an authentic, intact and fully equipped deck structure would be perfect for such learning. The centre accepted the offer, and the topside with control room and helideck was lifted off the column by a crane ship and moved to land.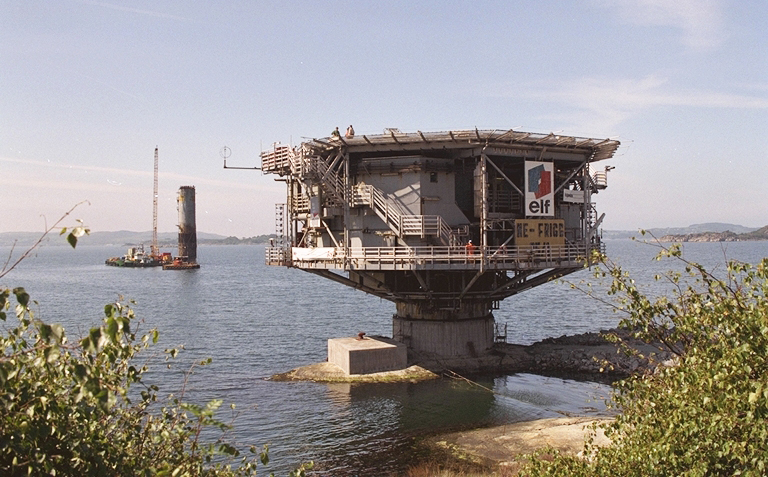 The steel column was to be towed to land and recycled. But Jøssang got another idea. He called the chair of the local marina in Tau and asked if they needed a new jetty. After some time for reflection, the answer was yes. Elf was surprised by the suggestion, but accepted it. The column was towed ashore, moored and partially submerged. Its ends were sealed, and the whole structure was clad with wood for aesthetic reasons. Jøssang had thought of using the concrete foundation as a base for fish farming.
Instead, however, it was pumped full of air to make it buoyant and then towed to land to serve as a foundation under the jetty at Tau.[REMOVE]Fotnote: Norwegian Petroleum Diary, no 2, 2002. The platform column was supported at each end by half the foundation. This allowed water to flow freely under the jetty, ensuring an environment-friendly marina.
The 390-tonne template was also retrieved and taken to land. One of the Christmas trees (stack of valves) was preserved and donated to the Norwegian Petroleum Museum, while the structure was melted down and recycled. The hydraulic control lines linking template and control column were taken ashore and destroyed.
Type

 Subsea installation with a not
normally manned control room

 Function

 Production from six wells

 Living quarters 

 12 persons, normally unmanned

 Water depth 

 102 metres

 Measures

 

 Height

 126,20 metres

 Diameter

 14,60 metres

 Geographical position

 59º 59′ 07.1″ N
02º 14′ 51.8″ E

 Largest helicopter capacity

 Sikorsky S-61 N

 Process control

 From QP

 Construction
 Construction of subsea
template 
 Kongsberg Våpenfabrikk and
Elf Norge
 Construction of Control
Tower:

 Kvaerner Engineering

 Production of subsea
template

 Nord Offshore

 Production of steel shaft

 Kvaerner Brug in Egersund

 Production of universal joint

 Kvaerner in Oslo

 Production of
plattformdeck and helideck

 OIS in Kristiansand

 Production
 Installation of subsea
template

 1981

 Start of drillling

 December 1981

 Production of gas

 December 1983

 Ownership

 

 Elf (Operator)

 25 %

 Esso

 40 %

 Norsk Hydro

 20 %

 Total Marine Norsk

 12 %

 Statoil

 3 %