During appraisal of the Frigg field and its division between Norway and the UK, Petronord discovered the Lille-Frigg satellite in block 25/2 during 1975. The field was found in 155 metres of water.
Petronord had secured the licence to this acreage during the second licensing round in 1969, when the Frigg licence was also awarded. Cores from Neptune 7 indicated that gas was present at a depth of 3 640 metres, with an underlying layer of oil. A later well, drilled in 1988, established that Lille-Frigg contained gas and condensate and was categorised as high pressure / high temperature field (HP/HT). The reservoir was estimated to hold eight million barrels of condensate and two billion cubic metres of natural gas.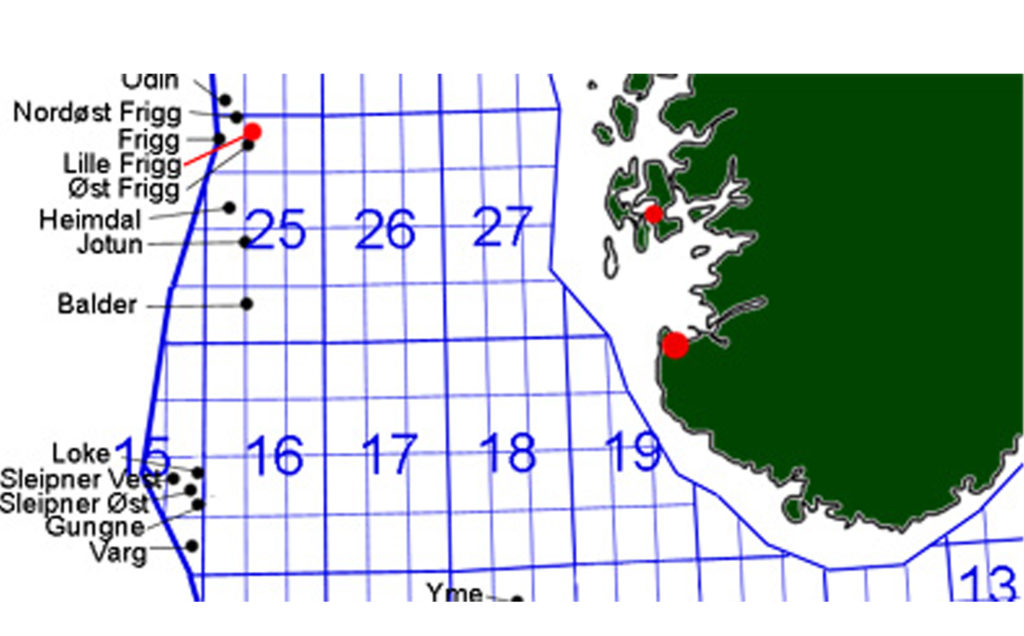 Lille-Frigg was not part of the same geological structure as Frigg. It lay in the Brent group of the Jurassic, twice as deep as the main field. The reservoir pressure was 670 bar, while the temperature amounted to 125°C. Lille-Frigg was the first HP/HT field to be discovered by Elf Norge. During project planning, it transpired that subsea wellheads which could cope with this level of pressure and temperature were not readily available. A new technical solution was accordingly required. More experience of operating unstaffed satellites was also needed before Lille-Frigg could be brought into production. This happened many years after the discovery was made, with the plan for development and operation (PDO) first approved in September 1991.
Lille-Frigg comes on stream
Three production wells were drilled on the Lille-Frigg satellite by Mærsk Jutlander from February 1992 to November 1993. The first of these, 25/2-C-1 H, encountered the reservoir 71 metres below the expected depth because it lay in a fault zone. A new track was therefore drilled further west, which penetrated the reservoir at a depth of 3 614 metres beneath the drill floor. The next two wells found it at 3 604 metres.
Lille-Frigg was developed as a subsea satellite with three templates, each with a single well. One of the templates also housed the manifold and the export flowline.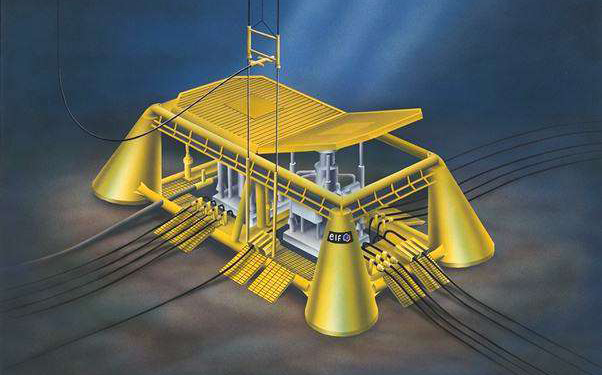 Production from the field began on 13 May 1994. It was monitored and operated from the control room on Frigg QP, but could also be run from a control room on TCP2. The processing equipment on the latter platform was upgraded to handle production from Lille-Frigg. Its gas was dewatered before being exported to Scotland, while the condensate (light oil) was treated and then piped to the Sture terminal near Bergen through Frostpipe and the Oseberg Transport System. The condensate went to Norway because it emerged during planning of the Frøy development that constructing a dedicated pipeline for this field's oil and condensate would allow Lille-Frigg condensate to travel through the same system. That would increase the profitability of a new pipeline.
Lille-Frigg was tied back to TCP2 by a 10-inch pipeline, into which chemicals were injected between field and platform. Diethylene glycol (DEG) was used to inhibit the formation of hydrate (hydrocarbon ice), and methyldiethanolamine (MDEA) to prevent corrosion through pH stabilisation.[REMOVE]Fotnote: Operasjon og drift, Norwegian Institute for Energy Technology, ISBN 82-7719-051-4.
These liquids were piped from TCP2. Lines from the platform also carried hydraulic fluid for opening and closing valves, while power and control signals were transmitted by cable.
PH stabilisation
Another innovation adopted by Elf when planning Lille-Frigg was a new method for inhibiting corrosion (rusting) in gas pipelines. Some water and carbon dioxide will always accompany petroleum production. Carbon-steel pipelines used to transport oil or gas with a high carbon dioxide content can suffer internal corrosion, with rates of metal loss as high as 10 millimetres per year. This has caused leaks in some pipelines. The pH stabilisation method introduced for Lille-Frigg in 1994 involved adding a neutralising base to the wellstream, which thereby became less acid. Rusting was reduced because a protective layer of corrosion products formed on the pipeline wall.
Lille-Frigg shut in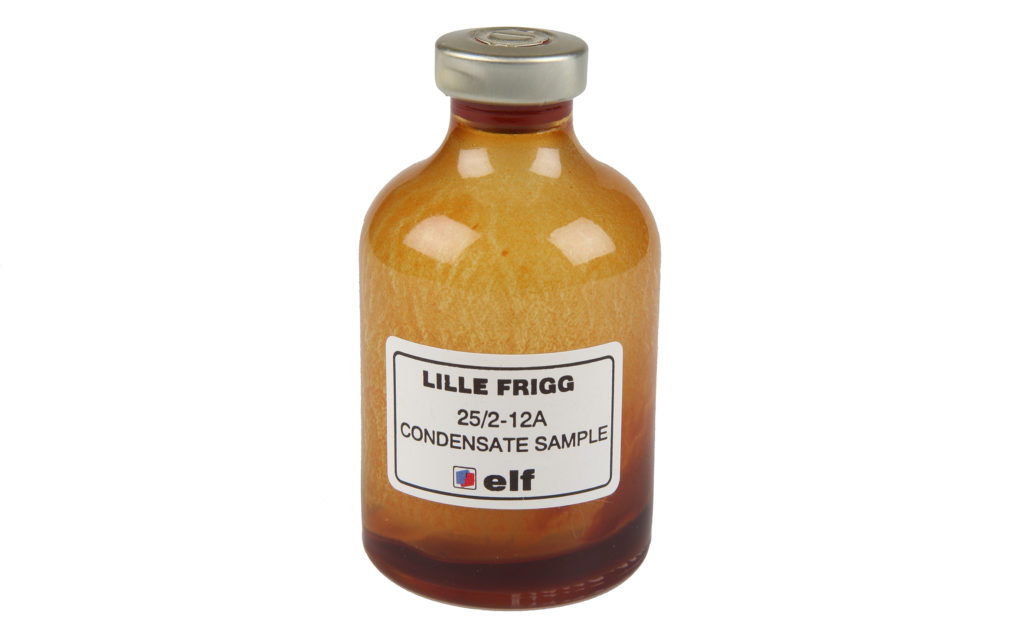 The Lille-Frigg field was shut in on 25 March 1999, after producing 2.2 billion standard cubic metres of gas and 8.2 million barrels (1.3 million scm) of condensate (light oil).[REMOVE]Fotnote: Facts 2006, Norwegian Petroleum Directorate.
Preparations for removing the subsea template were carried out by Coflexip Stena Offshore (CSO), and the work was done by SAC Thialf in July 2001.[REMOVE]Fotnote: A decision on disposal must be taken in accordance with the Norwegian Petroleum Activities Act and the Oslo-Paris convention for the protection of the marine environment of the north-east Atlantic (Ospar) of 1995. Pursuant to the Ospar decision of 1998 on the disposal of redundant offshore installations (see Proposition no 8 (1998-99) to the Storting), all subsea installations must be removed and disposed of on land. The proposed disposal plan accorded with this provision.
Plans called for production from the field to continue for 11 years, but it was discontinued after only five. The actual template structure was melted down for recycling, while the control system and other wellhead components were sold.
Frostpipe
The Frostpipe system ran for 82 kilometres from Frigg to Oseberg, and became operational in April 1994. It was used to transport oil and condensate (light oil), primarily from Frøy but also from Lille-Frigg and East Frigg. These resources flowed through Frostpipe from TCP2 to Oseberg A, and then through the Oseberg Transport System (OTS) to the Sture terminal near Bergen. After Frøy was shut down in March 2001, Frostpipe was filled with seawater and preserved for possible re-use.
Type
 Three subsea installations
with one well each

 Function

 Gas production

 Water depth

 155 meters

 Geografical position

 22 km North-east of Frigg

 Well control

 From QP

 Process

 On TCP2

 Field discovered

 1975

 Drilling

 1992 og 1993

 Production startup

 1994

 Closed

 1999

 Production quantity
 2,2 billion m3 gas